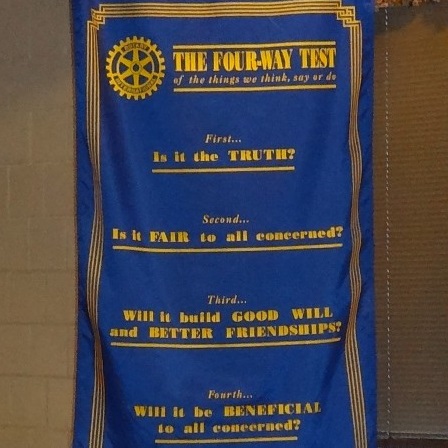 March 1, 2019
Greetings from the Cambridge Rotary Club,
The Cambridge Rotary Club will be holding its annual 4-Way Test Speech contest on Wednesday, March
20, 2019, at the Cambridge Country Club. Each year, we invite local high school students to present a
short speech relating our 4-Way Test guiding rules into their own life experience.

The Cambridge Rotary will award monetary prizes for the 1st, 2nd, and 3rd place winners ($250, $200, and $150, respectively) at our local level. The 1st place winner will then be eligible (and be expected) to
compete at our District competition on Saturday, April 6, 2019, at Ohio University, Chillicothe, OH, in
the Stevenson Center. The top 3 participants at the District level will receive additional monetary
awards of $500, $400 and $300, respectively.
I have attached information regarding the 4-Way Test, the rules, and guidelines, and how the contestant will be scored. In recent years, our local winner went on to win the District Rotary contest as well! Their
total cash prizes exceeded $650 and provided opportunities for public recognition in a well-respected
professional and supportive setting.
We are asking for one student to represent your High School in our local competition. This would be a great opportunity for someone in a creative writing class or public speaking class.
The Rotary 4-Way Test asks the following essential questions of the things we think, say or do:
IS IT THE TRUTH?
IS IT FAIR TO ALL CONCERNED?
WILL IT BUILD GOOD WILL AND BETTER FRIENDSHIPS?
WILL IT BE BENEFICIAL TO ALL CONCERNED?
Please let me know if your school will be participating by contacting either Carol Jones or Lisa Hillis no later than Friday, March 15, 2019.
We look forward to hearing from you soon!
For contest and contact information, please see the following link,
4-Way Speech Contest, Cambridge Ohio Rotary Information Packet